Key Points
The Grand Hyatt Roppongi's presidential suite is one of Tokyo's most luxurious and expensive hotel rooms
Known to staff as the "Bieber room," it's where Justin Bieber stays whenever he's in Tokyo
It also happens to be the only hotel room in Tokyo with it's very own private outdoor pool
Livin' Luxury in Tokyo… Just like Justin Bieber
Ever wanted to live like a star? As in, a star named Justin Bieber? Well, you can! All you need to do is book a night's stay in the Grand Hyatt Roppongi's luxurious presidential suite, known to the staff as the "Bieber room." I mean, it only costs 1.5 million yen (11,500 USD) per night.
Not only is the "Bieber room" the luxury suite that pop superstar Justin Bieber stays in whenever he's in Tokyo, but it's also one of Tokyo's largest private suites at 260 square meters (3,000 square feet), and Tokyo's only hotel room with a private pool in it looking over the entire city. Oh yeah, the pool's heated too, of course.
Our friends at Blackship Realty were granted access to the suite where you can watch a full, very detailed tour of the luxury hotel room. This was also the first time that the Grand Hyatt allowed a YouTube channel into the room to film. Check it out!
Checking Out the Inside of a Tokyo Ultra Luxury Suite
If you decide to stay in the luxurious suite which takes up the entire 21st (top) floor of the Grand Hyatt, upon entering, the first thing you'll likely notice apart from the elegant Isamu Noguchi sculpture in the doorway is how high the ceilings are. For your reference, that's 5 meters (16 feet) from the ground.
The entire room is tastefully covered in plush art and furniture made by famous Japanese and Japanese-American artists and designers including the aforementioned Noguchi, as well as George Nakashima. On top of the art, the room features its own tranquil Zen garden.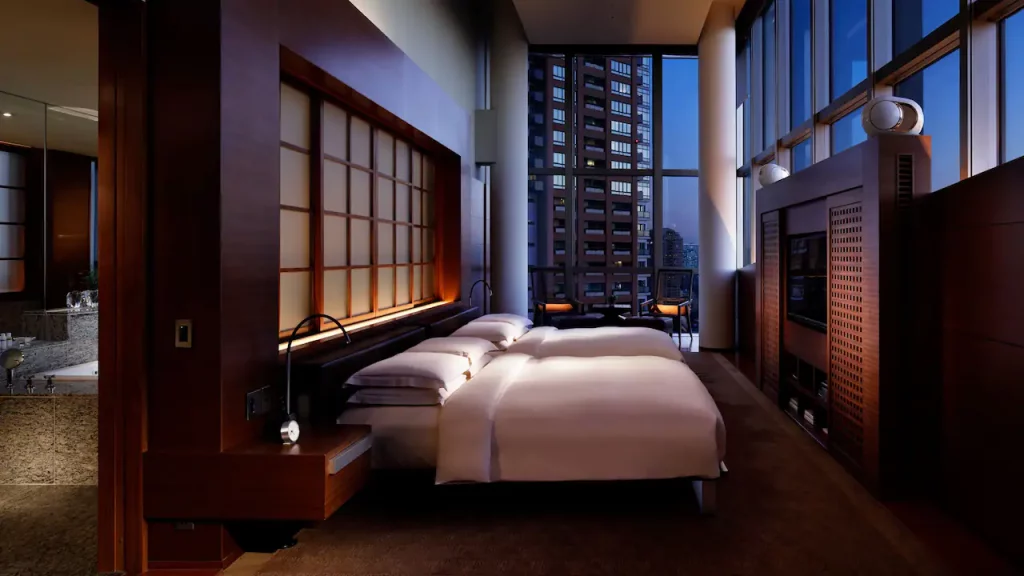 The bedroom features two king-size beds placed right next to each other so you and a significant other both have enough space for a king to sleep, all with views of Tokyo waiting for you in the morning. This is something you'll only find in Japan as even some married couples do want their own space when sleeping.
The living room is furnished with a custom-made circular sofa perfect for conversing over drinks or "talking business" as the office space with a desktop computer is located here as well. Right behind the office desk, however, is this room's secret weapon.
Tokyo's Only Luxury Hotel Room with Its Own Pool
Here's where you can head outside to take a dip in your own private, luxury rooftop pool. The Grand Hyatt Roppongi's presidential suite is the only hotel room in Tokyo, which has over 100,000 hotel rooms, with its own private outdoor pool. Of course, you can still always head down to the Grand Hyatt's larger pool downstairs if you are looking for a more public swim. After a quick swim, you'll probably want to head back inside for a shower.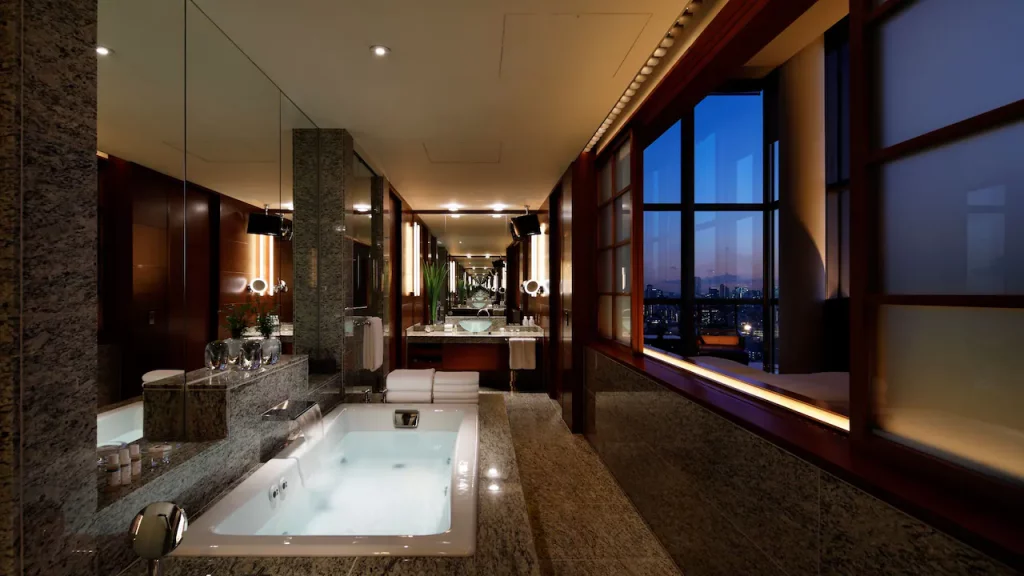 While many of you are likely familiar with Japan's onsen, and how many hotels feature hot springs or spas, in the "Bieber room," you don't need to go anywhere as it features its own beautiful gray marble shower and jet bath. In true Japanese fashion, the shower and bath are separated. The super-soft towels are made by Imabari Towel, in the famous towel manufacturing Imabari region of Southern Japan.
On the other side of the suite, another bedroom features two queen-size beds, its own Japanese garden, and an elegant outdoor seating area for other guests or your children to stay in. They won't go hungry either as the dining table seats eight people and the room service is 24 hours.
Sound good enough? You can reserve this room online on the Grand Hyatt Roppongi's website as long as Justin Bieber hasn't already booked it, of course!
Sources:
https://www.youtube.com/watch?v=qPWlEyKLPdo
https://www.hyatt.com/en-US/hotel/japan/grand-hyatt-tokyo/tyogh/rooms